Brands, businesses and agencies work with us to create videos, films, commercials, AR/VR experiences and more.
Film Production Company Australia
Film Production Company Sydney
Filma, a film production company in Sydney, has everything you need to make a successful film production in Australia. We  provide complete film production services, from pre-production to shooting and post-production.
In Sydney, there are plenty of stunning locations wherever you look, and Filma provides a highly experienced crew for feature films, TV series', documentaries, commercials, corporate videos, animations and more.
Film Production Services (Australia/Sydney)
We're filmmakers who have the passion and knowledge to create stellar films and video content all throughout Sydney. We at Filma believe in creating original films and videos at the highest quality. Whether you're in need of full production services from script, storyboard, coordination to shooting and visual effects, or just expert fixers and producers to secure locations and permits, we've got you covered!
The types of videos we've produced include:
Corporate video productions
Event video productions
Films (feature length and shorts)
Documentaries
Music videos
TV commercials
Social media video productions
Youtube Video productions
Product review videos
Viral marketing advertisements
Video interviews
Tutorial Videos
Our team of experienced producers are available at all times to handle every one of your film production needs in Sydney. Read on to find out what locations stand out in Sydney and how these locations and more can provide the perfect scene and atmosphere for your film or video.
Filming Locations (Australia/Sydney)
The Sydney Opera House

If you've seen an Australian-made movie, it's most likely that the scenes were filmed in Sydney. Sydney and Melbourne have equal standing as the cities mostly shown in movies when Australian suburban shots are required. Fox Studios, a film, and television studio in Sydney, has been used as the indoor film studio for various feature films, both Australian and International.
Such films include The Matrix, Mission Impossible 2, Star Wars: Episode 2 Attack of the Clones, and Moulin Rouge.
The Sydney Opera House, a UNESCO World Heritage Site, is the main attraction on the gleaming harbor, and a recurring feature in a number of films that establish Australia as the setting. The Sydney Harbour Bridge, otherwise known as the "Coat Hanger" to locals, provides spectacular shooting opportunities. As far as white sandy beaches, around Sydney there are plenty of options. The iconic Bondi Beach with its great surf, café scene, and cosmopolitan vibe, is less than a 15-minute drive from Sydney. Moreover, the coastal cliffs from Bondi to Coogee provide more cinematic ocean views.
The Sydney Tower

The 309-meter-tall Sydney Tower Eye soars above the skyline and is the city's tallest building and one of its most iconic landmarks. Big Hollywood films love Sydney, with movies like The Great Gatsby having shot around 40 % of the movie here. One of the most notable locations was 'The Gatsby Mansion', which is actually the International College of Management in Manly. In The Matrix, the famous helicopter crash scene took place at the BT tower in Market Street with the skyscrapers in Sydney's CBD giving off that mega-city feel.

Film Equipment and Professional Crew (Australia/Sydney)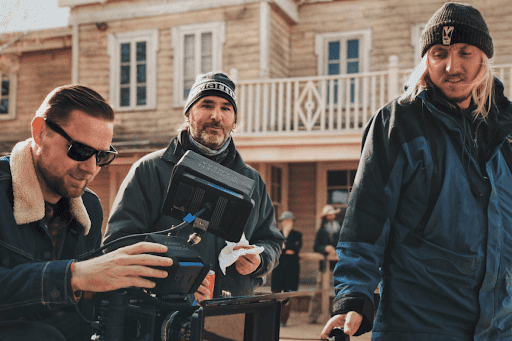 In Sydney, you'll find highly experienced and professional crews who have worked on critically acclaimed smaller budget art-house films alongside the big-budget Hollywood feature films. 
Filma can secure the latest cameras and equipment for your production. With the best in camera and lighting equipment as well as a highly experienced crew, your films and videos will come out looking incredible. Filma also has in-house editors and post-production specialists with years of experience.
Tax Incentives (Australia/Sydney)
Sydney is the perfect place to shoot your film, not only because of its talent and abundant locations, but also because of the competitive film and TV production incentives.
The country offers a number of globally competitive screen production incentives that include grants and tax rebates for eligible Qualifying Australian Production Expenditure (QAPE).
There's a 30% PDV Offset (Post, Digital and Visual Effects) that is refundable. Moreover, the Australian Federal Government allows an incentive for bigger budget foreign films which film in Australia. This offset is applied at a set rate of 16.5% of (QAPE) for a film project and is available to productions that spend more than AU$15 million.
Our on-site producers know Sydney like the back of their hand. Whether you're in need of full production support or just permitting and film production services, we're always available to talk. Feel free to reach out to us through email, by phone call or via the contact form below.
Fill out the form to speak to a producer