Brands, businesses and agencies work with us to create videos, films, commercials, AR/VR experiences and more.
Video Production Company Bangkok
Bangkok Video Production Background
Bangkok is loud, colorful, exciting and conversely peaceful at times with a population of nearly 11 million. This bustling metropolis is also an extremely popular film and video production location in South East Asia and beyond. Filma is a cloud based international video production company that has various filmmaking connections all over the world with Bangkok being one of our prime production locations. In this article, we'll discuss why Thailand is the ideal video production destination and how Filma can support all your production needs as well as propel your brand's creative vision.
Bangkok has a unique and well established video production infrastructure. Many Hollywood productions have used Bangkok as a film production location, either as a plot setting or to double as another location. Such films include The Hangover 2, Only God Forgives and The Deer Hunter. Good Morning, Vietnam was also mostly shot in Bangkok despite it being set in Vietnam.Thailand is not at the forefront of technology in the world, nor does it have the fastest internet. However, it has certainly seized the digital age more so than almost any other country. The average Thai person spends an astonishing average of 9 hours and 11 minutes online per day, which includes 5 hours and 13 minutes spent using the internet from their mobile phones. Consequently, Bangkok has the most active Facebook users in the world and 52 million active internet users. 94% of users report using Facebook with Youtube following closely behind. This has led to a massive demand for online and Youtube video production in Thailand.
Additionally, $108 million was spent on digital video advertisements in 2020 with statistics showing a 19% increase in social media video expenditure year to year. Keep reading for the full scope of video production services that Filma provides.
Types of Video Production in Bangkok
Filma is a one time/one stop solution international production company and we provide full production support with planning, shooting and editing. Once you have signed up on our single page platform, you'll be able to create different types of videos with us anytime, anywhere. Furthermore, we have the experience and knowledge to guide you in creating the perfect video to best market your brand. Keeping this in mind, Thailand is an incredibly popular and marketable video production location in both South East Asia and the world. Filma has years of experience working on a wide range of film and video productions in Bangkok.
The types of videos we've produced include:
Corporate video productions
Event video productions
Films (feature length and shorts)
Documentaries
Music videos
TV commercials
Social media video productions
Youtube Video productions
Product review videos
Viral marketing advertisements
Video interviews
Tutorial Videos
Firstly, you'll definitely want to focus on specific types of videos that bring awareness to your company's brand. Corporate, viral marketing and commercial video productions will remain the key focal point. Not only that, but social media videos, product review videos and event videos can all boost your brand particularly. These types of video productions are an essential part of marketing campaigns and will certainly raise brand trust as well as loyalty. Filma delivers urgent video productions and remote video production at the highest level of professionalism.
Video Production Locations Bangkok
Bangkok Skyline
The 'Big Mango' has a remarkable skyline and cityscape that stretches endlessly into the distance. We at Filma have a multitude of connections all over this sprawling city. Bangkok possesses many film shooting locations to suit any video production. The State Tower's Lebua Hotel SkyBar was filmed for scenes in Hangover 2. It is instantly recognizable for it's golden rooftop dome and neo-classical balconies. This cloud piercing rooftop is one of many skyscrapers that provide breathtaking views of the entire city and it's vibrant life.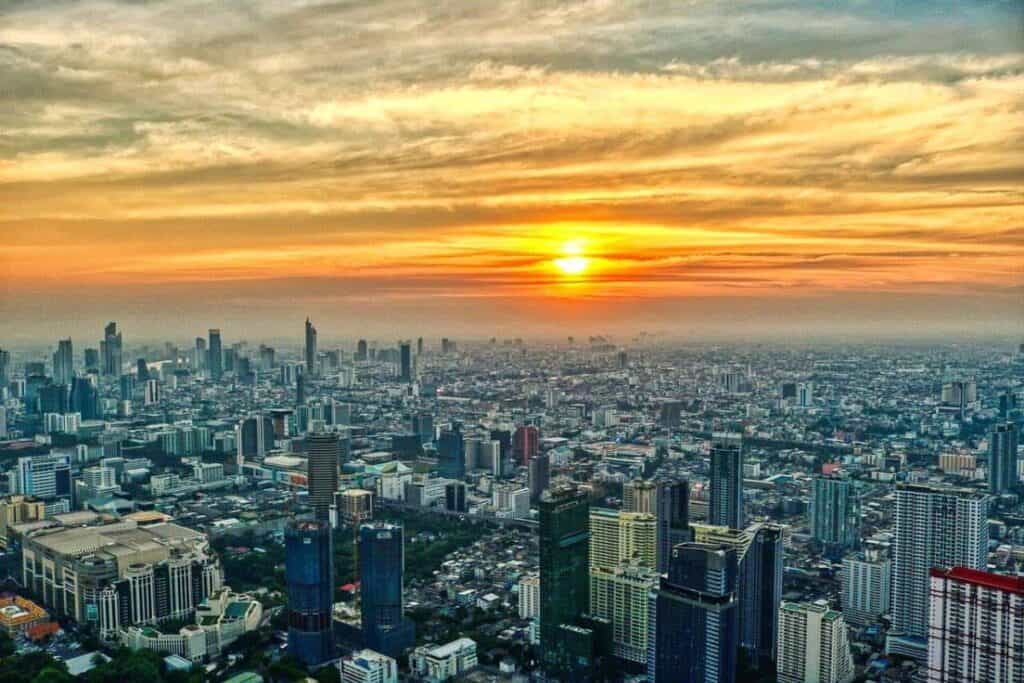 Another skyscraper worth noting is the King Power Mahanakhon building. It's a new addition to Bangkok and also its tallest building with a 360 degree view of the city. The skybar has a glass skywalk that thrills those who walk across and dare to look 79 floors below. Aerial and drone video shots would be perfect with the inclusion of the Mahanakhon and other skyscrapers located in the Sathorn business district. Bangkok is an electrifying charge on the senses. With endless rooftops, extreme humidity and a bombardment of noises, Bangkok is an exceptionally interesting location for multi-location video productions that will surely leave a lasting impression.
The Chao Phraya River

Bangkok's lifeline – the Chao Phraya River gives you the feeling of a previous era. This could possibly be the perfect aesthetic you want to explore for your next video. Architectural gems like the Danish East Asiatic Company headquarters and the Old Customs House are situated on the river banks. There are also various temples and old religious buildings that line the river banks, such as the renowned Wat Arun, Assumption Cathedral and The Grand Palace.
Bangkok Markets
When it comes to markets, Bangkok has it all! To the north of the city is the famous Chatuchak Market, which is the largest open air pedestrian market in the world. On weekends you'll come across 15,000 stalls, 11,000 vendors, and over 200,000 visitors. Talad Rot Fai is a name given to two 'Train Night Markets. Both of the markets are huge open air bazaar markets with plenty to catch the eye. The Flower Market sells thousands of flowers creating vibrant and colourful surroundings.
Chinatown
Bangkok's Chinatown, located on Yaowarat Road, is most well known for its artistic preparation of ethnic food as well as it's tourism and shopping. There are a whole host of markets that cater to both visitors and local shoppers. Yaowarat is also specifically admired for its old architecture, which reflects the earliest years of Bangkok. Bangkoks' Chinatown can easily double for a Chinese setting. Due to its narrow lanes with very little traffic, and charming old shophouses and bustling street life, Chinatow is a video production gem.
Filming Equipment and Post-Production Availability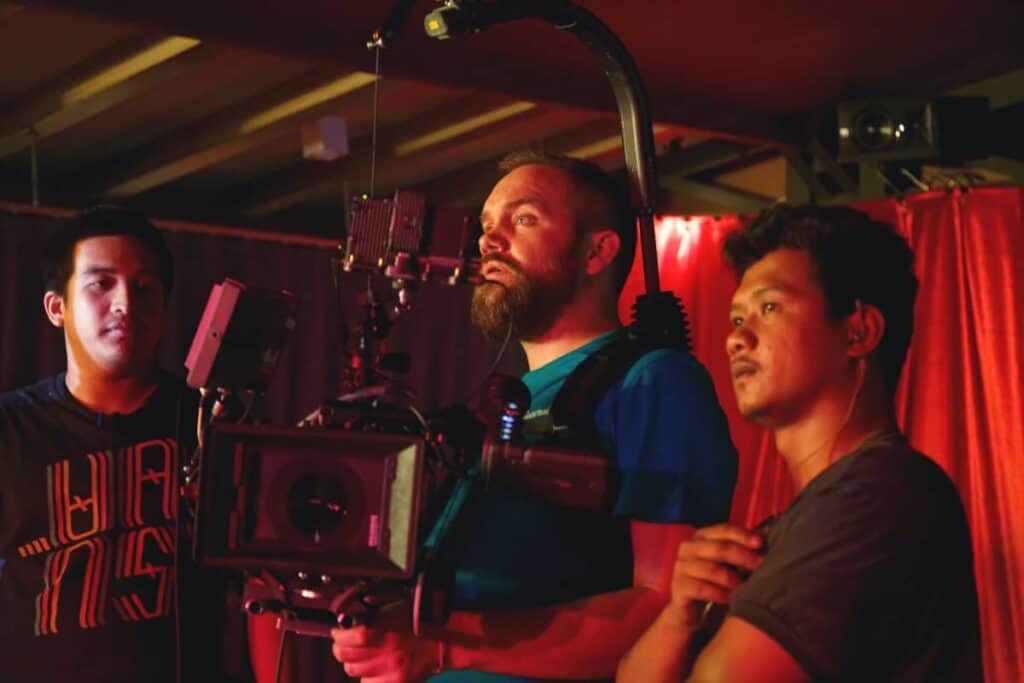 Filma has everything you need when it comes to film and camera equipment. We have the latest cutting-edge camera equipment at our disposal. For example, Arri, Sony, Canon and Red cameras are all available for shooting. Equipment can be locally hired from a number of production houses in Bangkok. There are also a plethora of world class post-production facilities on hand, such as our own offline cutting room with state of the art Davinci grading capabilities.
Filming Crew, Skills and Availability
In Bangkok, you will be spoilt with some of the best crew in South East Asia and the world. There are a number of highly trained professionals who have been trained on the US and European systems. As a result, they are experienced and well equipped with extensive knowledge of quick and pinpoint production protocol.
Furthermore, a huge benefit is that all head crew are English fluent. Our network of filmmakers, video production partners  and our in-house producers are dedicated to providing our clients with a seamless experience. Filma takes into careful consideration the considerations of all of our clients and brands. This is the reason why we carefully vet filmmakers who sign up with us on our single page platform. The directors, DOP's, videographers and video editors we work with are experts in using the latest technology and film production techniques. Namely, augmented reality video production, animation video production, 360 video production, drone & aerial videos and motion graphic videos are all types of global video productions with which they have years of experience.
Fill out the form to speak to a producer