Brands, businesses and agencies work with us to create videos, films, commercials, AR/VR experiences and more.
Video Production Company Dubai
Video Production Background Dubai
Filma is a global video production company that creates all types of videos with Dubai being one of the most awe-inspiring filming locations. Dubai's meteoric development over the last 20 years is astonishing, to say the least. The ultra-modern city houses many of the world's largest structures, such as the tallest building – The Burj Khalifa, and the world's largest mall – The Dubai Mall, among other astounding places like Dubai's Miracle Garden. In this article, we'll dive into Dubai's wealth of locations and filming resources and how Filma takes care of all your production needs there. Our experienced production teams will bring your brand's vision to life with the most powerful marketing medium – video.
Picturesque desert dunes, a panoramic coastline and incredible futuristic architecture make Dubai a hotspot for filmmakers. The UAE's most luxurious city and its surrounding areas have featured in Hollywood blockbusters such as Star Wars Episode VII – The Force Awakens, Mission Impossible: Ghost Protocol, Syriana and Star Trek Beyond. Filma's filmmakers in Dubai are highly experienced and creative Production can be broken down into two industries: film and video. Video production companies target small and medium businesses to large brands who need video content to address numerous objectives such as raising brand awareness to employee recruitment and more. Nowadays, video production is ubiquitous. It's everywhere and for good reasons. With every passing day, digitalization is observing rapid changes while growing exponentially. Social media platforms such as Youtube, Facebook and Instagram are playing a major role in bringing this growth of digitalization.
And with these platforms comes visually more immersive and creative video content that brands cannot do without.Read further to learn more about the types of video productions that Filma creates and produces in Dubai as well as the seemingly endless number of unique locations that make Dubai one of the best places to base your next film production.
Common Types of Video Production in Dubai
95% of audiences better hold on to a message or an idea after having watched a video, compared to only 10% from reading text. Businesses know the value of video which is why it's created for so many different areas. And with new advances in video formats and shooting styles, such as live broadcasting, 360° panoramas, and virtual reality, video content is becoming far more engaging.
Filma is a one stop solution worldwide video production company that has adapted to the times and evolved to offer remote video production services. Remote video production is a revolutionary way to watch your videos being created live, immerse yourself in the experience and at the same provide feedback, without having to be physically present on set. The types of videos we create and produce:
Corporate video productions
Event video productions
Films (feature length and shorts)
Documentaries
Music videos
TV commercials
Social media video productions
Youtube Video productions
Product review videos
Viral marketing advertisements
Employee / Client Interviews
Tutorial Videos
Filma productions are managed from our intuitive production platform , allowing you to track progress from pre-production to post-production. Our producers and fixers provide the best in camera equipment, and secure the ideal locations for your project. Read on to discover some of the idyllic and world renown places that exist in Dubai.
Dubai Video Production Locations
Dubai's Skyline and Burj Khalifa
Dubai is famous for world renown attractions such as the Burj Khalifa, the world's tallest building, and shopping malls that come complete with gigantic aquariums and indoor ski slopes. This futuristic city of high-rises and shopping malls has been transformed from a desert outpost to an in-demand destination for tourists as well as filmmakers. The skyscrapers and massive hotels make for unique city shots, and just outside the city there are vast, pristine areas. The city's skyline and attractions offer unique cinematic locations Dubai has sunshine all year round, and the stylish locations and structures make it an ideal place to base your production.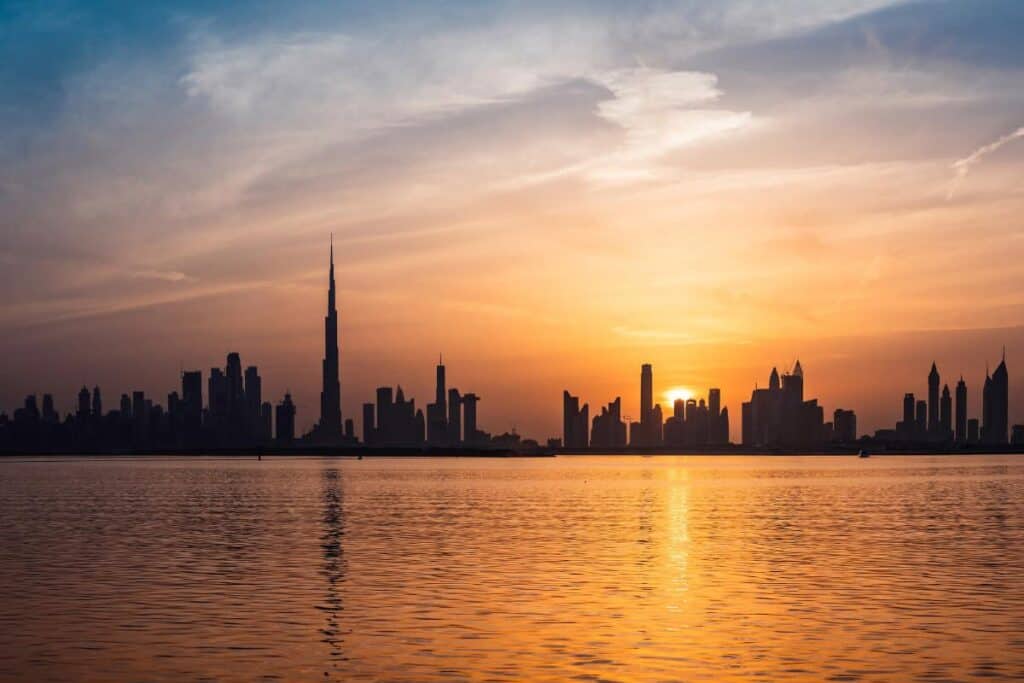 Apart from the Burj Khalifa, Dubai boasts close to 20 percent of the world's tallest residential buildings and seventy percent of the tallest hotels. Just miles of sand less than 20 years ago, now no story of Dubai's dynamic growth can be complete without paying homage to its magnificent ever-evolving skyline.
Burj Al-Arab
Standing 321 meters high, The Burj Al-Arab sits on its own artificial island on the Dubai coastline. The hotel was made to resemble a billowing sail . At night, the building lights up with a bright synchronised lighting display. Being one of the most expensive hotels in the world, there is over the top opulence at every turn, none more so notable than the underwater Al-Mahara restaurant, where floor-to-ceiling glass panels in the dining room walls allow you to view sea animals.
Dubai Frame
This gigantic 150-meter-high picture frame sits right between Dubai's older neighborhoods clustered around the creek and the city's contemporary sprawl. Inside you'll find a series of galleries that honor the city's history as well as explore Emirati heritage. Moreover, views from the Sky Deck provide panoramas of both old and new Dubai to be snapped on the viewing platforms.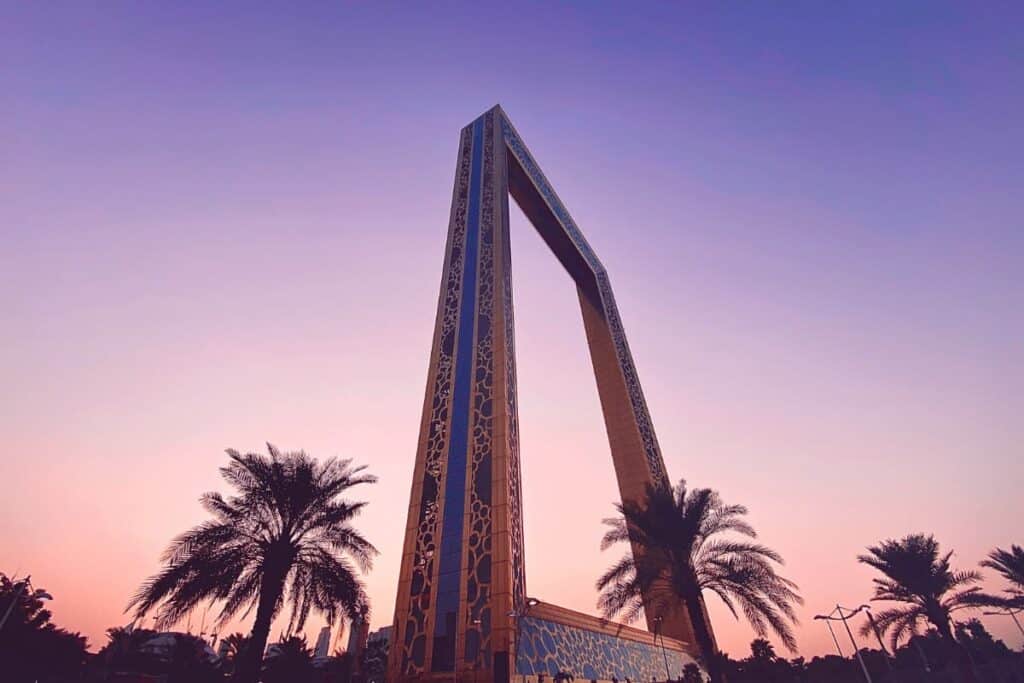 Dubai Miracle Garden
Dubai wasn't content with just building the world's largest buildings and malls. Here you'll find the world's largest flower garden, covering 2,000 square meters and housing a reputed 100 million flowers. A plethora of things have been covered with flowers, from twee English-style cottages to windmills and trucks. Furthermore, there's even a flower version of the Burj Khalifa.
Filming Equipment and Post-Production Availability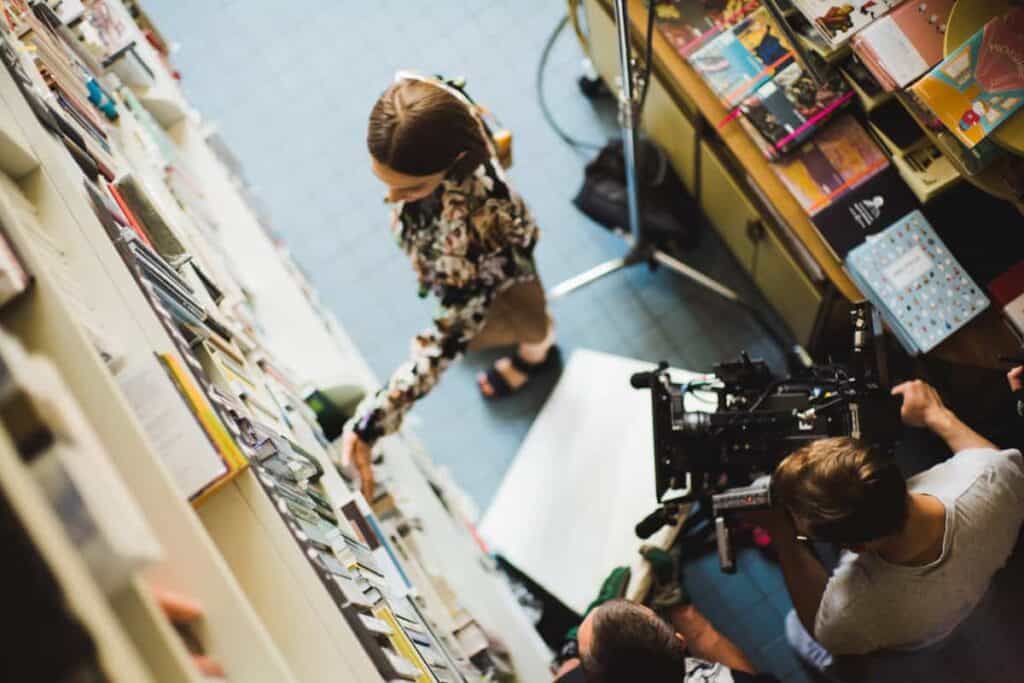 Filma utilises the latest in camera and equipment innovation. The latest cameras include Arri, Blackmagic, Canon, Red and Sony cameras, which we import or hire from film production houses in Dubai. At Filma, we also have our very own in-house cutting rooms with Davinci grading capabilities. Our equipment and post production facilities ensure your video comes out looking perfect.
Filming Crew, Skills and Availability
The team of filmmakers we work with here are masters in storytelling whether it be through films, documentaries, music videos, television shows, commercials or various types of video production. Filma works with filmmakers of diverse backgrounds, such as directors, DOP's, cinematographers, sound technicians, lighting, grip, wardrobe, make up artists and more.
Our straightforward single page platform incorporates a careful vetting process for potential filmmakers who sign up with us. The filmmakers that get chosen then go on to become our video production partners working in teams all over the world. Our teams of experts can utilise 360 video production, animation video production, drone & aerial videos motion, augmented reality video production, graphic videos and all types of global video production.
Fill out the form to speak to a producer