Create Videos in
Hong Kong
Brands, businesses and agencies work with us to create videos, films, commercials, AR/VR experiences and more.
Video Production Company Hong Kong
Video Production Background Hong Kong
Hong Kong, a cultural and business hub, once boasted one of the world's most distinctive film industries that even popularized entire genres like kung fu and wuxia, while also creating specifically local genres such as mo lei tau comedies and epic bloodshed action films. Filma is a global video production company that creates and provides production services for all types of videos and films in Hong Kong. In this article, we'll dive into Hong Kong's abundance of remarkable video production locations and filming resources. Filma's experienced filmmakers are experts at weaving stories and capturing footage that will not only resonate deeply with your audiences, but that further empower your brand.
Despite the city's size and its 7.52 million population, it produced more films than every other country in the world with the exception of the United States at one point in time, turning local stars Jackie Chan and John Woo into Hollywood celebrities while Donnie Yen's martial arts epics and Stephen Chow's mo lei tau classics earned cult status in the West. The two sides of production are film and video. Video production companies target small to medium sized businesses and large brands who need video content for a wide array of areas such as raising brand awareness to employee recruitment, corporate documentaries and more. Now, video production is ubiquitous, and with good reason! We're living in the revolutionary digital age that has afforded us the chance to observe the rapid changes that technological advancement brings. Social media platforms like Youtube, Facebook and Instagram are at the forefront of the digital age with video content completely dominating, which has created room for more immersive and innovative video content for brands to utilise.
As of 2021 there are roughly 7 million internet users in Hong Kong and the number of social media users rose by 110 thousand reaching 6 and a half million. Read on as we delve into the extensive types of video productions that Filma creates and produces in Hong Kong as well as the seemingly endless number of breathtaking locations that make Hong Kong the perfect places for your next video production.
Common Types of Video Production in Hong Kong
When it comes to retaining a message or an idea, only 10% of viewers remember from text as opposed to 95% of viewers who watch a video. No matter where you look, the numbers just highlight the value of video and it's indispensability, which is why it has so many uses and types. Moreover, due to new advances in video formats and shooting styles such as 360° technology, live broadcasting and virtual reality, video content is becoming far more innovative and engaging.
Filma is a worldwide video production company that has adopted remote video production, which is a revolutionary way to watch your videos being created live, immerse yourself in the experience and at the same give feedback, without having to be physically present on set. The following types of videos we create and produce:
Corporate video productions
Event video productions
Films (feature length and shorts)
Documentaries
Music videos
TV commercials
Social media video productions
Youtube Video productions
Product review videos
Viral marketing advertisements
Video interviews
Tutorial Videos
Employee / Client Interviews
All Filma productions are managed from our intuitive and simple production platform. This platform allows you to track your production's progress from pre-production to post-production. Our team provides the latest in camera equipment, all the while securing the ideal locations that best fit your project's needs.
Hong Kong Video Production Locations
Hong Kong's Skyline
Equipped with vibrantly bespeckled skyscrapers, Hong Kong has a reputation for having one of, if not the most beautiful skyline in the world. There's the romantic Victoria Harbor and viaduct bridges that wind deep into the urban jungle, and the entire cityscape resembles a colorful painting unfolding. Forty-four skyscrapers and landmarks project the world's largest permanent light and sound show – 'A Symphony of Lights'.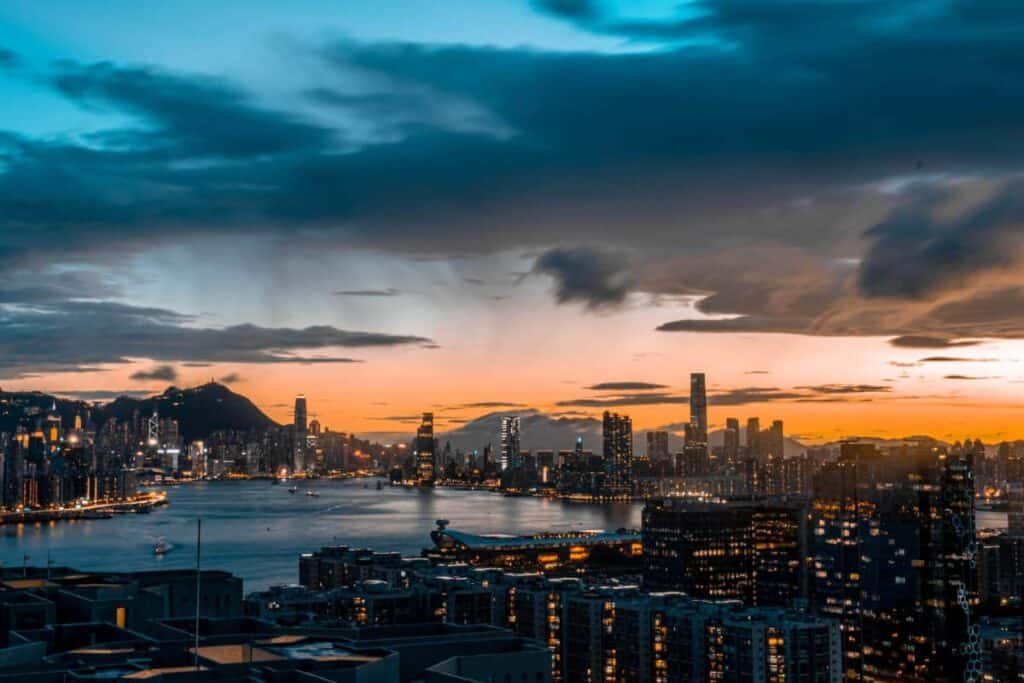 With the completion of the Bank of China Tower, the new Standard Chartered building, Central Plaza and the Cheung Kong Center, the image of Hong Kong's skyline started to resemble what it does now. Major buildings include the IFC Tower 2, the International Commerce Centre and Central Plaza. Wherever you look, this iconic urban sprawl can inspire filmmakers and brand visionaries alike with its magnificent skyline that holds a host of gems.
IFC Tower 2 A major landmark on Hong Kong Island is the International Finance Centre which consists of two skyscrapers. The IFC Tower 2 is an 88 story building and the second tallest building in Hong Kong at a height of 415 m, behind the International Commerce Centre in West Kowloon, and also ranks as the 31st tallest building in the world. It featured in Christopher Nolan's second installment of the Batman trilogy – The Dark Knight.
Yik Cheong (Monster Building)
Yik Cheong is one of Hong Kong's most picture worthy sites, known for its incredibly compact and stacked residential flats. It is famously called the 'Monster Building' by the locals for its mammoth appearance. The photogenic architecture has featured in Hollywood blockbusters like Ghost in the Shell and Transformers: Age of Extinction. The complex consists of five different buildings, each with its own name.
Temple Street
Temple Street comes alive at night, with its chaotic mix of sights, sounds, and scents that represent Hong Kong's traditional heritage. The Tin Hau Temple lends its name to this bustling street, and it was due to the temple that the street market cropped up in the 1920s, with street food vendors catering for those who visited the temple. Now, you'll find clothing stalls, fortune tellers, and karaoke sessions all piled onto one bustling street.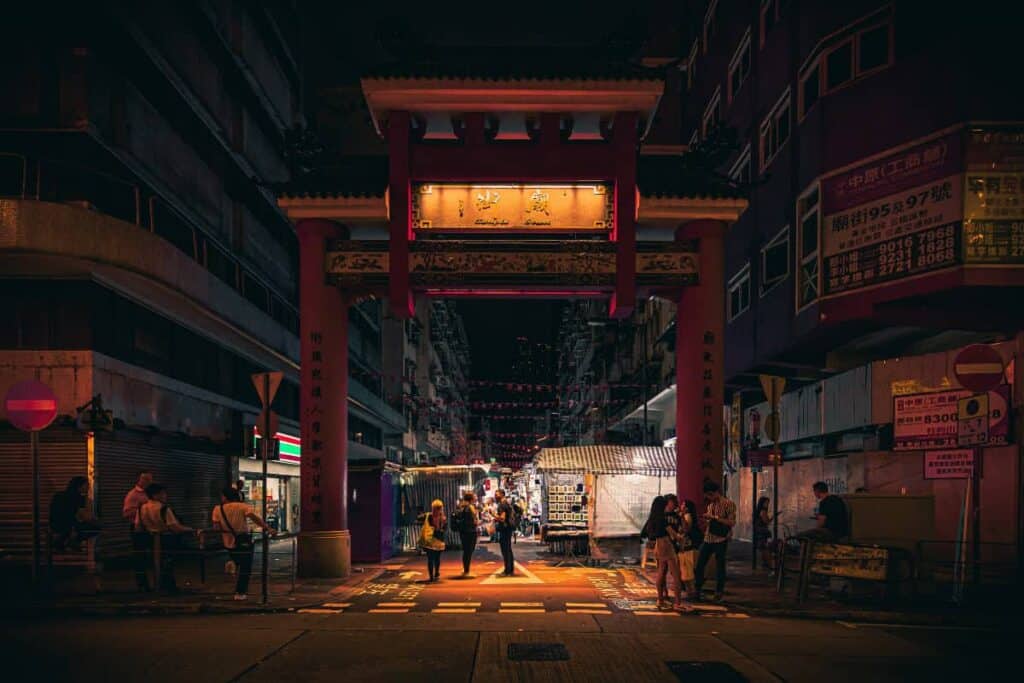 Filming Equipment and Post-Production Availability
Filma's equipment includes the best in cameras, sound and lighting across the globe. The collection of ultra high quality cameras include Arri, Blackmagic, Canon, Red and Sony cameras procured from local production houses in Hong Kong. At Filma, we have our very own in-house cutting rooms with Davinci grading capabilities.
Filming Crew, Skills and Availability
Filma's team of filmmakers in Hong Kong are true masters of their craft, whether it be through films, documentaries, music videos, television shows, commercials or corporate videos, filma works with filmmakers of diverse backgrounds. We have a vast network of directors, DOP's, cinematographers, sound technicians, lighting, grip, wardrobe, makeup artists and more. FIlma's single page platform is intuitive and allows us to carefully select the best of those filmmakers who sign up with us.
The filmmakers chosen then go on to become our video production partners working in teams all across the globe. These creative experts can utilise 360 video production, animation video production, drone & aerial videos motion, augmented reality video production, graphic videos and all types of global video production. Contact us here at film.io to get a quote from one of our producers who are always happy to answer any questions you might have, so feel free to contact us anytime with inquiries about your your next successful project.
Fill out the form to speak to a producer