Create Videos in
Singapore
Brands, businesses and agencies work with us to create videos, films, commercials, AR/VR experiences and more.
Video Production Company Singapore
Video Production Background Singapore
Filma is a cloud based and multi-location video production company that creates video content all over the world, with Singapore being one of our prime locations. Singapore, the island nation city-state, has evolved greatly from its fishing village days. This Southeast Asian island nation is one of the most developed countries in the world, consequently making it the business center of SEA. It is also quickly becoming a popular choice for filming locations, and has already developed an impressive video production background. In this article, we'll delve into why Singapore is the ideal video production location for your brand's video and how Filma can breathe life into your creative marketing vision.
All this innovation despite the fact that only 6 million people call it home, which is certainly impressive. The ultramodern backdrop has recently been the setting for many sci-fi films, most notably – Equals, Independence Day: Resurgence and more. Several locations in Singapore have also been used for season 3 of the popular HBO series Westworld. Singapore is always looking ahead! In fact, it has ranked first in the World Economic Forum Global Information Technology Reports – Networked Readiness Index for many years now. Research shows that digital marketers who use videos to sell their products and services get 66% more qualified leads. One of the obvious major benefits is that their brand awareness increases by 54%. There are also reports that using video as a digital marketing strategy helps their companies accomplish a 55% returning customer rate. For business websites in Singapore, the average conversion rate for using videos as a marketing tool is 4.8% compared to 2.9% for those sites that don't. Read further to find out about the types of video productions we produce in Singapore as well as the stunning array of locations available there.
Common Types of Video Production in Singapore
Singapore is the world's second highest ranked country, behind only Australia for mobile connectivity with a score of 86.6 in the Global Connectivity Index 2020. With that said, 88% of Singaporeans are now online. On top of that, they spend almost 7 hours a day on the Internet. Thus, there has never been a better time for brands to create online video content for consumers.  Moreover, YouTube is the most used social media platform in Singapore, surpassing even Facebook. Aside from the obvious demand for social media and Youtube videos, there are numerous types of video content that Filma can produce to best benefit your company's brand. Filma is a one time/one stop solution international video production company.  For ugent video production and remote video production, we produce a range of videos in Singapore such as:
Corporate video productions
Event video productions
Films (feature length and shorts)
Documentaries
Music videos
TV commercials
Social media video productions
Youtube Video productions
Product review videos
Viral marketing advertisements
Video interviews
Tutorial Videos
We provide full production support with pre-production, shooting and post-production. Once you have signed up on our single page platform, you'll be able to create different types of international video productions with us anytime. Corporate, viral marketing and commercial video productions will benefit your brand immensely. As mentioned before, Online video productions are so important in the scheme of rapid online media consumption.  Filma facilitates urgent video productions and remote video production at the height of professionalism.
Singapore Video Production Locations
Central Business District
The breathtaking skyline that 'The Lion City' is famous for in itself has been recently seen in Independence Day: Resurgence. Not only due to its recognizable and iconic landmarks, but because it truly is a remarkable sight. Singapore's Business District, referred to as 'CBD' is where all commercial and financial business takes place. It is right on the river, located between The Marina Bay and Chinatown, making filming between locations simple. Colonial buildings, temples and fine dining restaurants that offer stunning views line this area, which provide an abundance of video production opportunities.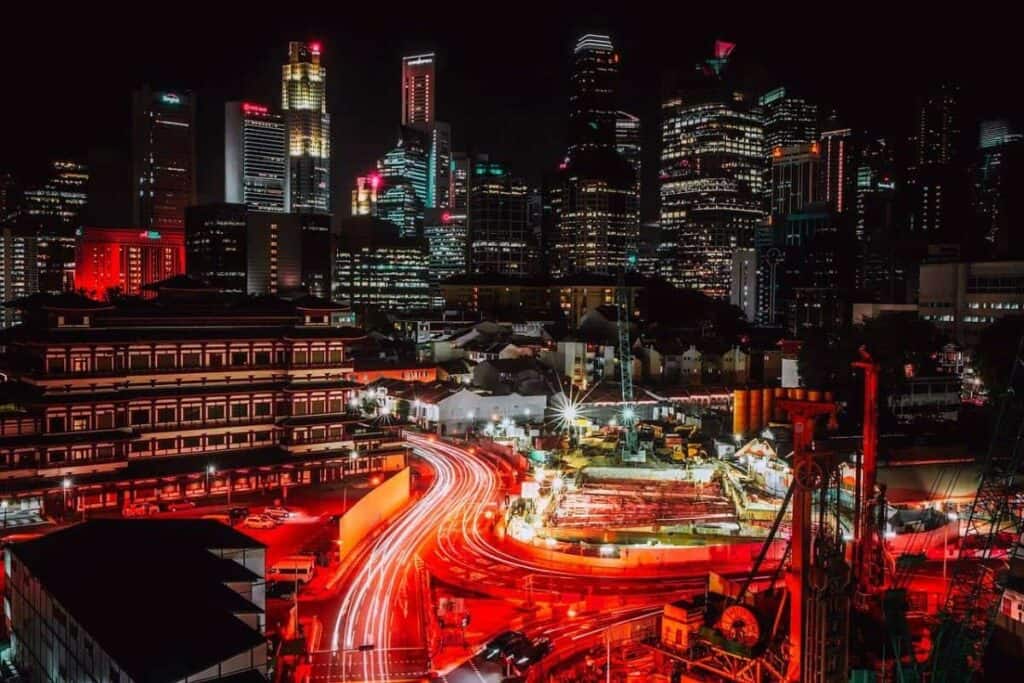 The Marina Bay Sands
It's quite surprising that The Marina Bay Sands has not been used more frequently in films. It certainly is one of the world's most unique and iconic buildings and is famous for its SkyPark Observation Deck and rooftop infinity pool that overlook the Gardens by the Bay, The Singapore River as well as much more.
The Helix Bridge
This Singaporean architectural marvel was seen in Westworld's season three. This spiral bridge has four viewing platforms situated at strategic locations that present extraordinary views of the Singapore skyline and events taking place within Marina Bay. Its unique design has led to numerous architectural and design awards.
Chinatown
Chinatown is brimming with life and is home to many different places of worship and religions. These include the Buddha Tooth Relic Temple (pictured right), the colourful Sri Mariamman Temple (first Hindu temple in Singapore) and the Thian Hock Keng Temple. Keong Saik Road is a gentrified street with narrow shophouses, hipster food outlets and many modern boutique hotels.
Filming Equipment and Post-Production Availability
We at Filma can secure state of the art camera equipment. Our cutting-edge camera equipment includes Arri, Canon, Sony and Red cameras – all available for shooting in Singapore. Equipment can also be locally hired from a number of production houses in Singapore or easily imported using an ATA carnet.  Filma has access to cutting rooms with world-class Davinci grading capabilities.
Filming Crew, Skills and Availability
Singapore's greatest asset as far as crew and staff is that everyone speaks English fluently, which is a significant advantage when considering where to shoot in a foreign country – especially in South East Asia. There is an extensive array of professional Film and TV crew of whom have experience in every field of filmmaking.
Filma carefully vets filmmakers who sign up with us on our single page platform. They are our video production partners and experts in animation video production, 360 video production, augmented reality video production, drone & aerial videos motion graphic videos and all types of global video productions with which they have numerous years of experience.
Fill out the form to speak to a producer