Brands, businesses and agencies work with us to create videos, films, commercials, AR/VR experiences and more.
Video Production Company London
Video Production Background London
Filma is a cloud based video production company operating in multiple locations, with filmmaking connections to top production houses in London. London, a culturally diverse hub with an estimate of over 300 languages spoken, is an incredibly popular destination for film, television and video production. Two decades since the rise of digital media and the evolution of video and television technology, there has been a significant increase of films and video productions released in the United Kingdom. In this article, we'll dive into why London is a massive video production center and how Filma facilitates all your production needs there. Specifically, we'll hone your vision into the most powerful marketing medium to embolden your brand.
London has provided state of the art studios and magnificent shooting locations for a plethora of world famous movies and television. Blockbuster franchises such as The Harry Potter movie series and James Bond movies have been filmed in London. Meanwhile, series like Peaky Blinders, The Crown, Sherlock and Black Mirror have achieved ubiquitous recognition. One of the world's largest financial centers, London has a major influence on the arts, commerce, education, entertainment, fashion, economics, media and film. The production industry is separated into two main categories – films and video. They're completely different in terms of markets with video production companies focussing on small and medium businesses who require video content for many purposes such as either corporate training or advertising. Now, video production is everywhere and has become the most successful marketing strategy. 85% of internet users watch online video content  every month.
With digital consumption at record highs, it's no surprise that 1.16 Billion Dollars was spent on digital video advertisements last year. This was an 11 percent increase from the previous year. Keep reading as we detail the types of video productions that Filma produces in London and the abundance of breathtaking locations this historic city has to offer.
Common Types of Video Production in London
Studies have shown 95% of viewers remember an idea or message when they see it in a video, compared to 10% when reading text. Further research has found that mobile video consumption goes up by 100% every year. Additionally, new advances in video formats such as live broadcasting, 360° panoramas, and virtual reality videos are contributing to more engaging video content. 5g technology and faster internet speeds have led to an even greater need for capitalization on video marketing. More than 54% of consumers wish to see more video content from brands they support.
Filma, a one time/one stop solution worldwide video production company, films with the convenience of urgent video productions and remote video productions. We have experience shooting a broad array of video productions in London, that include:
Corporate video productions
Event video productions
Films (feature length and shorts)
Documentaries
Music videos
TV commercials
Social media video productions
Youtube Video productions
Product review videos
Viral marketing advertisements

Employee / Client Interviews

Tutorial Videos
We carefully plan and facilitate every step of production from pre-production to post-production. With Filma, create any type of video production around the world at any time with ease. The base of your video marketing strategies will come from commercial, viral marketing and corporate video productions. Our producers and fixers procure the most advanced camera equipment, stunning locations and a selection of expert filmmakers in various types of video productions.
London Video Production Locations
London's Skyline
This city's cultural impact on the world is well noted, and its iconic structures such as Big Ben, the London Eye and the Tower Bridge have long defined the city's image. Since 2010, the tallest building in London has been The Shard situated at London Bridge. The modern marvel topped out at 309.6 metres, when completed in 2012. London's greater metropolitan area boasts the second most skyscrapers of any city in Europe. As of 2020, a total of 32 skyscrapers in London reach a roof height of at least 150 metres. A whole host of skyscrapers are being planned for the City and Canary Wharf. However, other districts of London including: Stratford, the South Bank, Vauxhall, Nine Elms, Islington as well as in places in Outer London such as Croydon have major architectural projects in development. The iconic city's skyline is a dreamscape for shooting.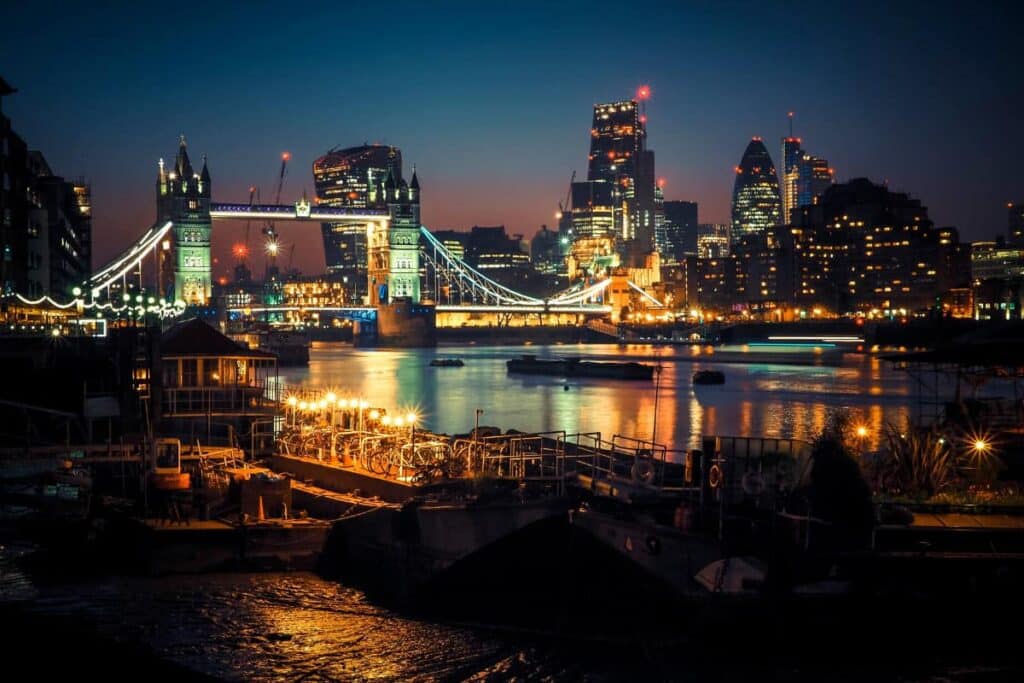 Lovat Lane
One not too well-known, but idyllic location is an ancient winding path down a slope lined with cobbles in the City. Lovat Lane, previously named Love Lane, is a narrow lane that leads to Lower Thames Street. Love Lane changed to Lovat Lane in 1939 and has retained its narrow width since before the war. The buildings face directly onto the lane where there's a view of the tower of St Mary at Hill which, untypically for a City church, appears higher than its immediate surroundings
London Eye / Big Ben
Known as Big Ben, Elizabeth Tower and The Houses of Parliament are among London's most recognizable landmarks. In fact, Big Ben is the name given to the giant bell inside the clock tower with a weight of more than 13 tons. The London Eye, a revolving observation wheel, is an iconic landmark on the South Bank of the River Thames. With an overall height of 135 metres, the London Eye was the world's tallest Ferris wheel from 1999 until 2006, when the Star of Nanchang, in China, surpassed it.
River Thames
Along London's river Thames is where you'll find landmarks such as the Tower Bridge, the London Eye and Shakespeare's Globe. The River Thames travels more than 210 miles through the heart of some of England's most idyllic towns, right through to the centre of London and eventually it flows out into the North Sea. The River Thames has become a major feature of many feature films, such as James Bond: Spectre, The Long Good Friday, Pirates of the Caribbean: On Stranger Tides and Harry Potter.
Filming Equipment and Post-Production Availability
Film crews come in droves to film in London and Filma has access to the latest innovative camera equipment. Our top of the line cameras come equipped with the latest video production capabilities. Such equipment includes Arri, Canon, Red and Sony cameras, which are available at numerous London film production houses. Filma possesses in-house cutting rooms with world-class Davinci grading capabilities.
Filming Crew, Skills and Availability
Numerous British blockbusters and comedies, along with critically-acclaimed American Films have filmed in London making this vibrant metropolis one of the world's top film and video production locations. The filmmakers here are experienced storytellers working on films, documentaries, television shows, corporate videos and all types of video production.
Here, Filma works with expert directors, DOP's, cinematographers, sound technicians, lighting, grip, and wardrobe. Our streamlined single page platform makes use of a careful vetting process for potential filmmakers who sign up with us. The filmmakers that are selected then go on to become valued video production partners. We have experts in 360 video production, animation video production, augmented reality video production, drone & aerial videos motion, graphic videos and all types of global video production.
Fill out the form to speak to a producer