Create Videos in
Kuala Lumpur
Brands, businesses and agencies work with us to create videos, films, commercials, AR/VR experiences and more.
Video Production Company Kuala Lumpur
Video Production Background Kuala Lumpur
Kuala Lumpur is one of FILMA's top international video production locations. Filma is a cloud based, multi-location video production company that creates videos for brands all over the globe. KL, as referred to by locals, is the capital and the largest city in Malaysia with a population reaching almost 8 million. Decades of swift development and urbanization have made KL the business center in a country that has become one of the most developed in SouthEast Asia, trailing only Singapore. A host of film, TV and video productions have recently flocked to shoot in the Malaysian capital. In this article, we'll support why Kuala Lumpur could be the perfect video production location for your brand's best marketing tool and how Filma creates and produces exceptional content in order to galvanize your company's vision into video.
The biggest production houses in Malaysia are located in Kuala Lumpur. KL has an extremely modern city backdrop, which is why quite a few Hollywood productions have chosen this city as some of their featured locations. Films such as Entrapment (1999), Fair Game (2010), Blackhat (2015) and most recently Crazy Rich Asians (2018). KL is a forward thinking city constantly looking for new ways to develop and innovate. 26.69 million people use the internet in Malaysia as of 2020. This equates to 83 percent of the population. There was an increase of 919 thousand, which works out to +3.6% from last year. On top of that, every type of product and business has seen major growth in categories of Ecommerce. Most people access the internet through a mobile phone and 91% of users searched online for a product to buy. As of this year, the number of mobile connections in Malaysia equals a staggering 127% of the total population. Keep reading to learn about the varying types of video productions we produce in KL as well as the wonderful range of locations available in this compelling city.
Common Types of Video Production in Kuala Lumpur
Internet penetration in KL and Malaysia as a whole stands at 83% and in this age of technology and rapid development, that number is sure to increase. People here spend almost 8 hours a day using the internet and 2 hours and 45 minutes of that time is spent on social media platforms such as Facebook and Youtube. The number of social media users increased by 1 million (+4.1%) from last year to this year reaching 26 million users. This year, social media penetration stands at 81%. Additionally, 98% of those people watch online videos.
In short, there has never been a more opportune time to capitalize on the popularity of online video production and viral marketing advertisements. Filma is a one time/one stop solution global video production company. We produce urgent video productions and remote video productions, and in KL there are many types of productions:
Corporate video productions
Event video productions
Films (feature length and shorts)
Documentaries
Music videos
TV commercials
Social media video productions
Youtube Video productions
Product review videos
Viral marketing advertisements
Video interviews
Tutorial Videos
We facilitate every facet and phase of planning, shooting and editing. You'll be able to create any type of video production with us anywhere, anytime. Corporate, viral marketing and commercial video productions will best market your brand. Also, we now know online video productions are absolutely crucial when marketing your brand. Filma provides crew, locations, equipment and a vast pool of talented filmmakers to choose from for any international video production.
Kuala Lumpur Video Production Locations
Kuala Lumpur's Petronas Towers
The petronas towers standing at 88 storeys high have been the pulse of KL's skyline since being completed two decades ago. The towers, known locally as Rocket Twin Towers and Jagung Kembar (meaning Twin Corns), are located in the heart of the city. This is where large corporate organisations manage their businesses. A double storey Skybridge on the 41st and 42nd floors connects the two skyscrapers. They are officially the tallest twin towers in the world and are inspired by Islamic architecture. In addition, the beautifully maintained KLCC Park is within walking distance.
Sultan Abdul Samad Building
The Sultan Abdul Samad Building is a Moorish-style building encompassing Merdeka Square and the Royal Selangor Club. This building exudes architectural art and consists of red bricks, sumptuous arches, copper domes, and a sky high clock tower. Nowadays, it's utilized by the Supreme Court and High Court.
The KL Tower
The 94 metres high KL Tower is a notable feature in Kuala Lumpur. Arabic and Islamic scripts imbue its architectural design. Primarily it's a communications tower for television transmissions and broadcasts. It is also the highest viewpoint offering a panoramic view of Kuala Lumpur and is open to the public.
Batu Caves
The journey is a notable 272-step long trek that directs one to this limestone temple. Inside you'll find three large caves with a clump of smaller ones here, as well as idols and statues. The Cathedral Cave is a favorite for its ancient 100m high arched ceiling. There are also a multitude of Hindu shrines that lie within.
Filming Equipment and Post-Production Availability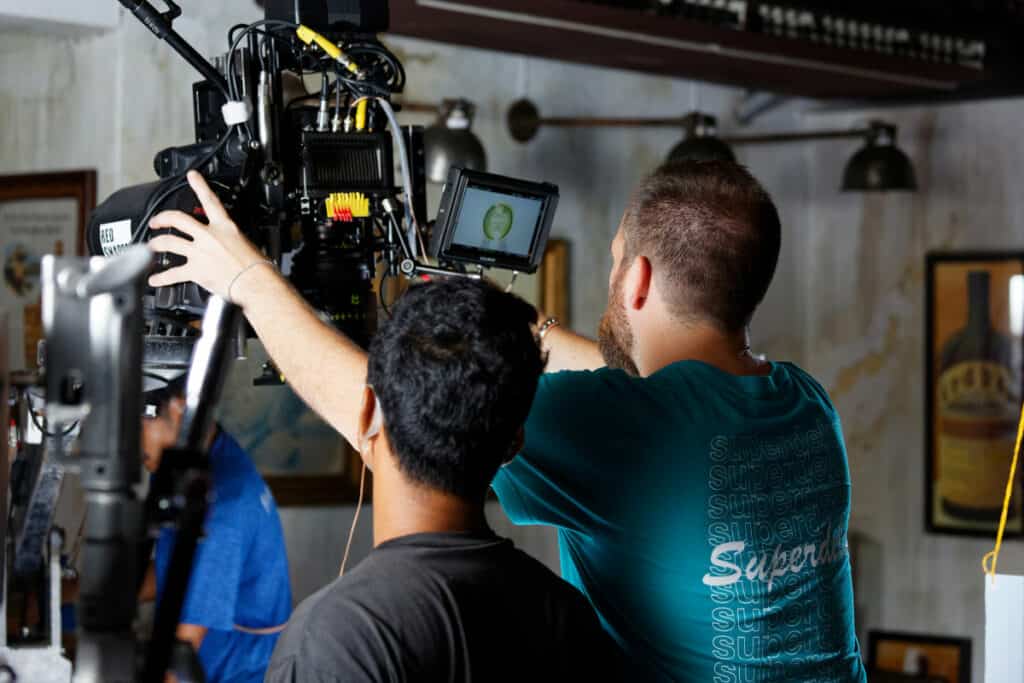 We at Filma procure the best available camera equipment. The latest camera equipment includes Arri, Canon, Sony and Red cameras – all available for shooting in KL. Equipment can also be locally hired from a number of production houses in KL or imported using an ATA carnet. Filma has access to cutting rooms with world-class Davinci grading capabilities.
Filming Crew, Skills and Availability
KL boasts major assets when it comes to the film crew including the fact that everyone speaks English fluently. This is an appreciable advantage when considering where to shoot in a foreign country, specifically in South East Asia. A diverse range of outstanding Film and video crew reside in KL who have experience in every field of filmmaking.
Filma has created a careful and meticulous vetting process for potential filmmakers who sign up with us on our single page platform. Those that make the grade then become our video production partners and lend their expertise in animation video production, 360 video production, augmented reality video production, drone & aerial videos motion graphic videos and all types of global video productions with which they have many years of experience.
Fill out the form to speak to a producer