Create Videos in
Ho Chi Minh
Brands, businesses and agencies work with us to create videos, films, commercials, AR/VR experiences and more.
Video Production Company Ho Chi Minh
Video Production Background Ho Chi Minh
Ho Chi Minh, a vibrant and dynamic city, is the economic and financial center of Vietnam and one of Filma's ideal video production locations. Filma is a cloud based, global video production company. We create video content for the biggest brands worldwide, and Ho Chi Minh is a truly wonderful filming location. Formerly known as famous Saigon, this city is home to almost 9 million people and has experienced rapid development in the last 30 years. It has come a long way from its colonial, war stricken past to become the financial and business center of Vietnam. Furthermore, it is a popular choice for filming locations, already developing a formidable video production background. In this article, we'll detail why Ho Chi Minh is one of the best video production locations for your brand's video and how Filma can vitalize your company's vision into video.
Ho Chi Minh has a unique culture and an interesting architectural mix that reflects old French colonialism, Vietnam's own historical heritage and now modernism with gleaming skyscrapers. A number of feature films have been shot here. The Quiet American, Monsoon and most recently the Spike Lee directed film, 'Da 5 Bloods'  – all of which are set in Vietnam. Vietnam's rapid development has certainly extended to technology with Ho Chi Minh at the forefront. This means online video marketing will play a key role in marketing your brand's video. As of 2020 there are 68.17 million internet users and that number has increased by 6.2 million between 2019 and 2020, which rounds out to a 10% difference. Meanwhile, there are 65.00 million social media users, which saw an increase of 5.7 million (+9.6%) between 2019 and 2020. Consequently, social media penetration stands at 67% this year and will definitely see an increase. Keep reading as we delve into the stunning filming locations Ho Chi Minh has on offer, along with the common types of video productions that Filma produces.
Common Types of Video Production in Ho Chi Minh
Filma has years of international video production experience and we've previously created film content in Ho Chi Minh on various occasions. Our extensive network of filmmakers have expertise in all types of video production in the country's economic capital. 95% of internet users in the SEA country watch online videos. Therefore, never has there been a more perfect time to create online video content to reach such a wide audience.  Moreover, Facebook and Youtube lead the way for most used social media platforms in Ho Chi Minh reaching up to 90%. Besides the demand for social media and Youtube videos, a host of other video content can help your company and expand your brand awareness. Filma is a one time/one stop solution international video production company that specializes in remote and urgent video production, such as:
Corporate video productions
Event video productions
Films (feature length and shorts)
Documentaries
Music videos
TV commercials
Social media video productions
Youtube Video productions
Product review videos
Viral marketing advertisements
Video interviews
Tutorial Videos
Filma gives total support, taking care of planning, shooting and editing. After you sign up on our easy single-page platform, you'll be able to create various types of multi-location video productions with us anytime. Of course, you'll find success with corporate, viral marketing and commercial video productions. As previously mentioned, online video productions can only benefit your brand. We at Filma maintain the highest quality of video content, ensuring we help your brand achieve marketing success.
Ho Chi Minh Video Production Locations
Ho Chi Minh Skyline
Ho Chi Minh's landscape has changed drastically in the last number of years. Although the city has a mix of the old balancing with the new. With classic French architecture, temples, pagodas and elegant skyscrapers, there are endless video production possibilities in Ho Chi Minh. The city also boasts a host of rooftop bars that overlook the cityscape. Likewise the local restaurants provide an eclectic range of Chinese, French and, naturally, local Vietnamese cuisine. No building in Ho Chinh embodies the word 'skyscraper' better than Landmark 81.
This cloud piercing skyscraper stands 81 stories tall right on the banks of Saigon River. A video production shot in Ho Chi Minh would be greatly enhanced with a view from it's observation deck- Skyview. A new addition to the city's skyline, it is also currently the 15th tallest building in the world.
Notre Dame Cathedral Basilica of Saigon
A fine example of, The Notre Dame Cathedral situated in the center of Ho Chi Minh is characteristic of Neo-Romanesque architecture. Its twin square towers, capped by iron spires, reach almost 60 meters above the city. It was built from 1877 to around 1883 and was intended for colonial missionaries to worship. It was also meant to symbolize the French colony's power.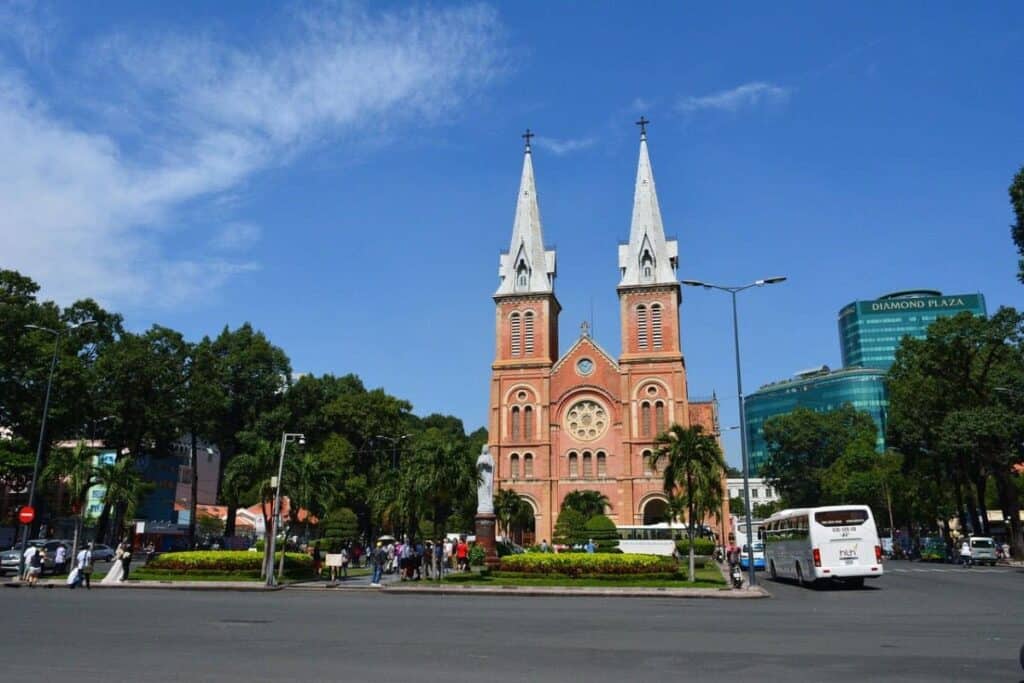 Saigon Opera House
The Saigon Opera House, located at the beginning of the famous tree-dotted Le Loi Avenue, is typical of classic French colonial style. It was built as Opera de Saigon by a French architect in order to entertain French colonists. The architecture holds materials imported from France such as entrance way statues, crystal chandeliers and a glossy granite floor.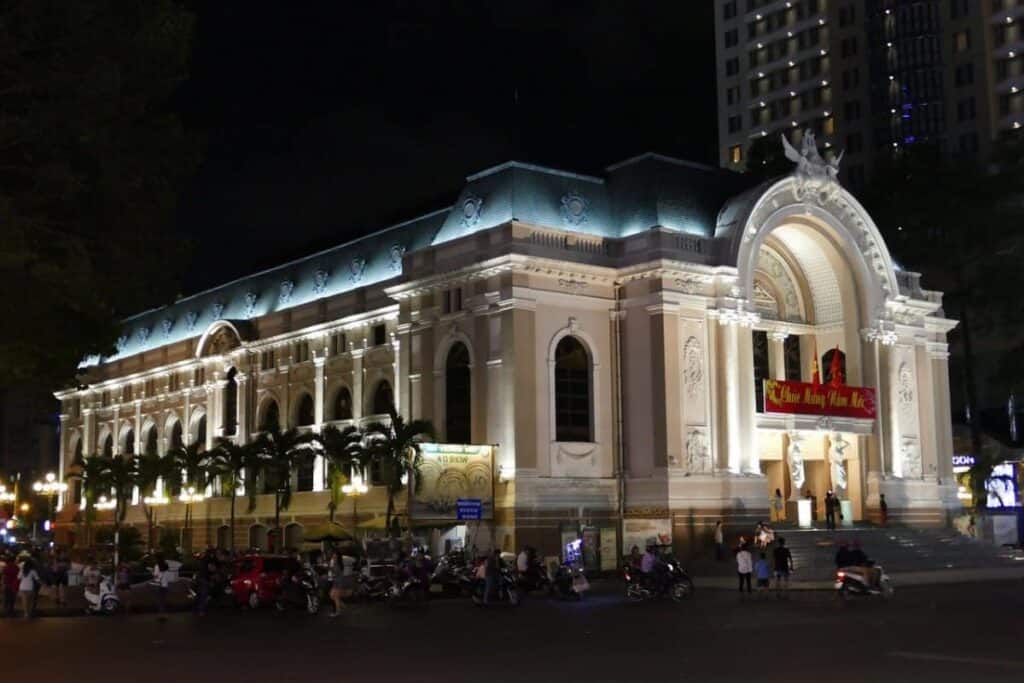 Saigon River
The famous Saigon River stretches a total of 225 kilometers and plays an important role as it supplies water to the city. Home to the Saigon Port, it is the heart of the import and export of goods to and from the South of Vietnam. You can go further by the water way, in the case of wanting to explore Vung Tau or the Mekong Delta. All these locations provide beautiful scenic options for your video shoot.
Filming Equipment and Post-Production Availability
FILMA can supply top of the range camera equipment. A partial list of the cutting-edge camera equipment we provide includes Arri, Canon, Red and Sony cameras. All of these are available in Ho Chi Minh from our network of local production houses. Filma has our own network of editors with cutting rooms that have world-class Davinci grading capabilities.
Filming Crew, Skills and Availability
Ho Chi Minh possesses an excellent camera crew, of whom all speak English fluently. This is a major benefit when considering where to shoot in a foreign country – especially in South East Asia. Our extensive array of professional Film and video production crew have experience in all fields of filmmaking. 
Filma has a careful vetting process for filmmakers who sign up with us on our single page platform. These expert video production partners are experienced in animation video production, 360 video production, augmented reality video production, drone & aerial videos motion graphic videos and all types of global video productions with which they have built over many years of experience.
Fill out the form to speak to a producer