Brands, businesses and agencies work with us to create videos, films, commercials, AR/VR experiences and more.
Video Production Company Hanoi
Video Production Background Hanoi
Filma, a cloud based multi-location and international video production company, provides video content for major brands, with Hanoi being one of our most unique filming locations. Hanoi, the second largest city in Vietnam with an estimated 20 million people in the metropolitan area, has undergone rapid changes over the last number of years. It may not be the financial center that Ho Chi Minh is, but it has been the reunified capital of Vietnam ever since 1976 after its victory in The Vietnam War ending 1975. Moreover, it's getting more recognition as a popular video production location. For this article, we'll dive into why Hanoi could be the exact video production location for your company's video and how Filma can embolden your brand's vision to create exemplary video content.
Here you can find colonial buildings that have been very well preserved as well as unique museums within the city centre and ancient pagodas. In addition, a multitude of naturally beautiful areas surround the city in the northern region. Areas like Hạ Long Bay, Tràng An, Vân Long and Tam Cốc and the Tú Làn Caves were all put on Hollywood's map with their inclusion in Kong: Skull Island. In Vietnam, residents are online for an average of 6 hours 30 minutes every day. This includes 2 hours and 22 minutes on social media platforms and with that they spend over 2 hours on watching videos. This insight shows that videos and social media are the prime method of digital marketing. Therefore, to create brand awareness, video content is the best way to engage with consumers. 95% of internet users watch online videos every month with YouTube being the primary platform to stream video content.
There is also a rising trend in new social media users with 65 million active on social media equating to 67% market penetration. Keep reading as we delve into the stunning filming locations Hanoi boasts, as well as the common types of video productions that Filma produces there.
Common Types of Video Production in Hanoi
Filma has years of collective global video production experience between our filmmakers and we know the ins and outs of video creation in Hanoi. We have a vast network of filmmakers that have in-depth knowledge with all types of video production in the Vietnamese capital. We now have concrete knowledge that video and digital marketing are the best ways to market your brand and reach a wider audience. Consequently, never has there been a more opportune time to create online video content.
Facebook and Youtube lead the way for most used social media platforms in Hanoi reaching up to 90% of the population. Aside from the obvious demand for social media and Youtube videos, there are various types of video content that can help your company to expand your brand awareness. FILMA's one time/one stop solution international video production company specializes in remote video production and urgent video production:
Corporate video productions
Event video productions
Films (feature length and shorts)
Documentaries
Music videos
TV commercials
Social media video productions
Youtube Video productions
Product review videos
Viral marketing advertisements
Video interviews
Tutorial Videos
Filma gives complete support, facilitating with every phase of production from prep to post. After you sign up on our easy to use single-page platform, our producers will be ready to start organizing various types of multi-location video productions. Naturally, you'll find success with corporate, viral marketing and commercial video productions. Event video productions and product review videos also help to supply a full scope of brand marketing. Filma preserves the highest quality of video content production in order to make sure we help your brand achieve the highest level of marketing success.
Hanoi Video Production Locations
Hanoi Cityscape
Hanoi's cityscape is quickly developing. However, the city as a part of the northern regions of Vietnam, has a number of old architectural gems as well as UNESCO World Heritage Sites. Hanoi is situated on the banks of the Red River and is a wonderful place to explore on foot or on a bicycle. Previously a French-colonial city, its architectural sense from that time remains intact.The city also boasts magnificent cuisine, a colorful nightlife, silks and handicrafts, and a multicultural environment of people consisting of Chinese, French and Russian influences.
Tran Quoc Pagoda Buddhist Temple
The Tran Quoc Pagoda is 1500 years old making it one of the oldest buildings in Vietnam and the oldest in Hanoi. It was the favored spot for sightseeing of many kings of Vietnam during important festivals. The pagoda still preserves its unique aspects in its architecture despite rapid urbanization. It was the capital of Buddhism during the Tran dynasty and is now considered as a symbol of Hanoi as the capital, both in the past and present.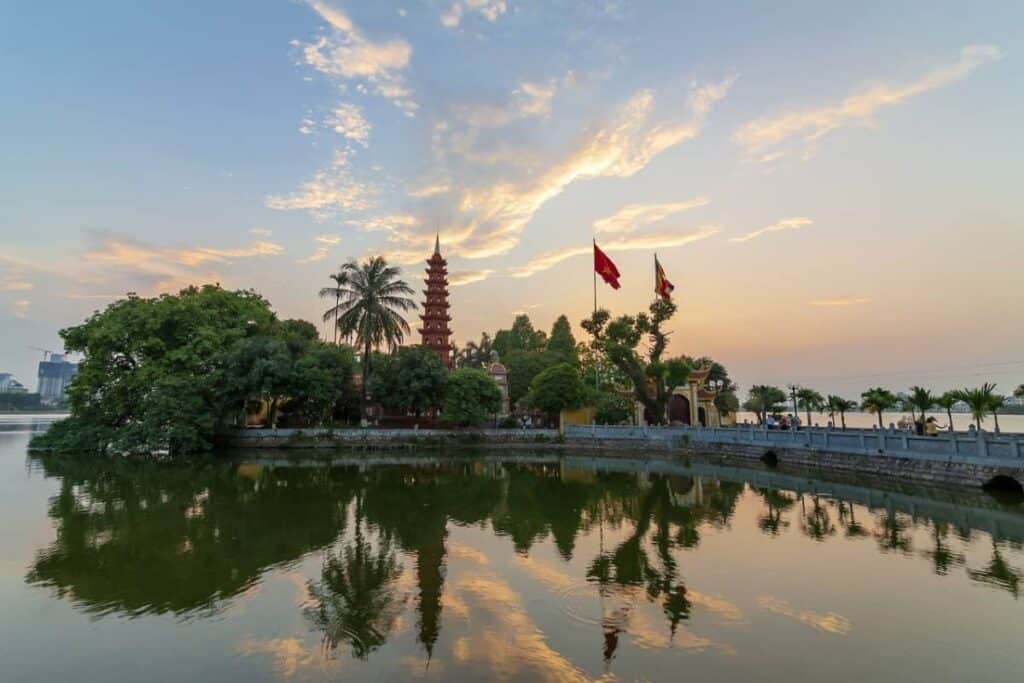 Hanoi's Old Quarters
The Old Quarter infuses charming colonial architecture, pagodas and Buddhist temples. It is located near Hoan Kiem Lake in Hoan Kiem District, which is Hanoi's major commercial district. There are preserved shop-houses situated along the roads, which were constructed just over a century ago. Trendy cafés, hip bars, bakeries, boutique stores and art galleries fill this area.
West Lake
Hanoi's largest freshwater lake is called West Lake and is known locally as Tay Ho Lake after its district. It's a large body of water with a circumference of 17km. It's only a 15-minute drive from Hanoi Old Quarter; many locals venture to this district as it is a sanctuary of true natural beauty. There are a multitude of quiet and scenic areas as well as substantially sized botanical gardens.
Filming Equipment and Post-Production Availability
FILMA provides the latest and best camera equipment. A sample list of the cutting-edge camera equipment we supply includes Canon, Arri, Red and Sony cameras. All of these are available from local production houses in Hanoi. We also have our own network of post-production specialists with cutting rooms that have Davinci grading capabilities.
Filming Crew, Skills and Availability
Hanoi possesses an excellent camera crew, with all head crew positions being English proficient. This is a huge plus when considering places to film in a foreign country. Our extensive network of professional film and video production crew have heaps of experience in many fields of filmmaking. Filma has a systemically meticulous vetting process for choosing filmmakers.
Once they've signed up and been approved, they become our video production partners. They are experienced in animation video production, 360 video production, augmented reality video production, drone & aerial videos motion graphic videos and all types of global video productions with which they have numerous years of experience.
Fill out the form to speak to a producer