Brands, businesses and agencies work with us to create videos, films, commercials, AR/VR experiences and more.
Video Production Company Bali
Video Production Background Bali
Filma is a cloud based video production company specializing in multi-location video productions, and Bali is one of our most in-demand filming locations. Bali is an island with a population of 4 million and just one of more than 17,000 islands in the Indonesian archipelago. It is only located about 2 kilometers away from the eastern point of the island of Java and west of the island of Lombok. Bali also holds the Indonesian International Film Festival every year.
In this article, we'll show why Bali may just be the ideal video production location for your company's next video. We'll also dive into how Filma produces and films original content to best publicize your brand's vision.
Bali, simply put, is a paradise with friendly people and a remarkably visual and spiritual culture. 'Eat, Pray, Love' starring Julia Roberts prominently featured Bali with scenes in Ubud and Padang Padang Beach. Bali has also appeared in various critically acclaimed documentaries such as Baraka, She Is the Ocean, Madventures and Racing Extinction.The government of Indonesia continually encourages filmmakers to shoot in the country, and they're very welcoming of foreign investment in production and distribution. For corporate companies, never has there been a more ideal time to capitalize on the digital video market. $213 million was spent on digital video advertisements as of 2020. This increased by 14 % from last year. Mobile device technology is the principal factor for this years' development in video advertising.This is due to high mobile processing power and the latest 5G internet connection speeds that will allow more intricate mobile video ad format approaches.
The number of mobile connections in Indonesia increased by 15 million from last year to now, equating to 124% of the total population. Keep reading as we list the diverse range of video productions that Filma produces in Bali.
Common Types of Video Production in Bali
These new complex video formats can include live broadcasting, 360° panoramas, or virtual reality videos, which will create more immersive and attractive video content. Social media will stand out as a highly important platform for reaching a wide audience. There are over 160 million social media users in Indonesia and this has seen an increase of 8.1%. Moreover, social media penetration stood at 59% at the beginning of this year, and will only continue to increase.
Therefore, it's an ideally opportune time to market your brand through online video production and viral marketing advertisements. Filma is the one time/one stop solution global video production company that produces and films urgent video productions and remote video productions. We have experience shooting a broad array of video productions in Bali, such as:
Corporate video productions
Event video productions
Films (feature length and shorts)
Documentaries
Music videos
TV commercials
Social media video productions
Youtube Video productions
Product review videos
Viral marketing advertisements
Video interviews
Tutorial Videos
We facilitate through planning, shooting to editing. With us, you can create any type of video production anywhere, anytime. The backbone of your video marketing strategies will need to be viral marketing, commercial and corporate video productions. Filma's team of producers deliver state of the art equipment, idyllic locations and a comprehensive selection of expert filmmakers to choose from for any international video production.
Bali Video Production Locations
Tanah Lot and Bali Landscape
Pura Tanah Lot ("Pura" meaning temple in Balinese) is around 20 kilometers northwest of Kuta, in Southern Bali. It is fixed on a rocky islet surrounded by crashing waves. This holy temple was built in the early 16th century. Legend has it that a priest named Nirartha, asked the local fishermen to build a temple here after spending the night on the rock. You'll be able to film while walking across to the main temple at low tide as foreigners can't enter the temples.Bali's natural environment and landscape is rich and diverse for its relatively small size. There are volcanoes, mountain peaks, beaches, reefs and cascading rice terraces featuring prominently on the island.
Tegallalang and Jatiluwih rice terraces
It's hard to find the adjectives to aptly describe the stunning beauty of Bali's Tegallalang and Jatiluwih rice field terraces. These terraces gleam with emerald hues and provide truly majestic cinematic options for video shooting. Many restaurants and cafés can be found by the fields at Tegallalang Rice Terraces, which provide a relaxing way to soak up the landscape. The less crowded Jatiluwih rice terraces cover over 600 hectares of rice fields.
The Nusa Islands
To see Bali without the crowds, traffic and tourist touts, the Nusa Islands are the ideal way to see life at a slower pace. Of the three islands, the most popular is Nusa Lembongan, which is located about 20 kilometers offshore from Sanur. Nusa Ceningan is the neighboring island that is just over a bridge from Nusa Lembongan. Nusa Penida is the largest of the three islands where you can find rock formations, caves, and a bird sanctuary.
Kintamani Mount Batur
Kintamani, a mountain village in central Bali, holds the spectacular Mount Batur, which is Bali's second highest peak. Also, the Batur caldera lake is located here by the village. You'll find vantage points such as Penelokan that is the best place to gaze at Batur's jagged features of dark lava slopes and black molten rocks. Mount Batur is an active volcano that has erupted about 24 times since 1800. Each eruption has reshaped the surrounding landscape.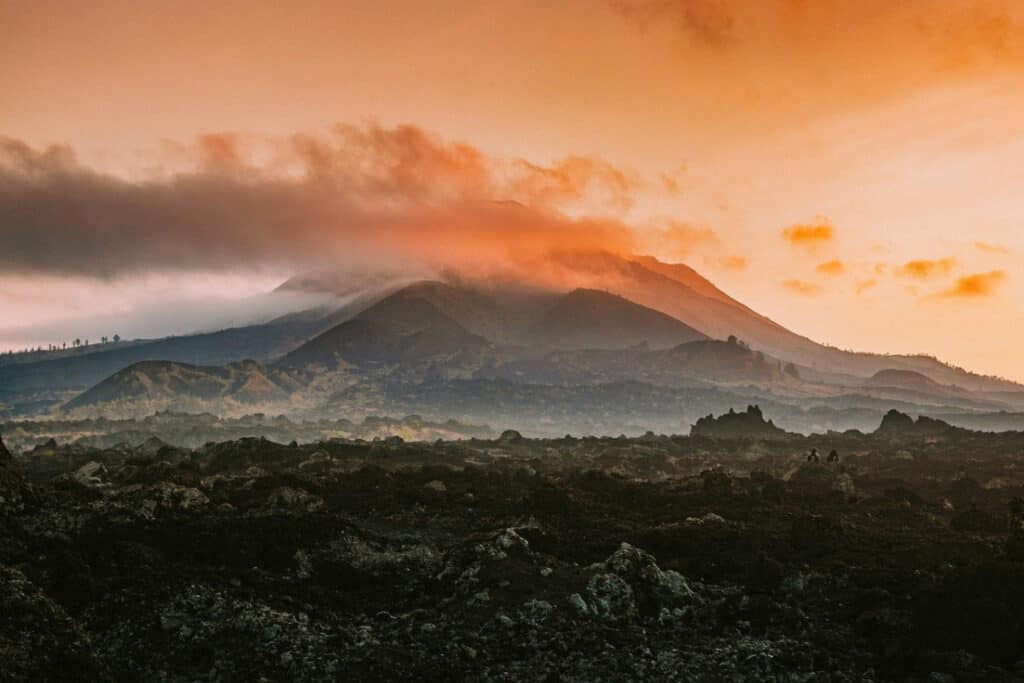 Filming Equipment and Post-Production Availability
Filma secures the newest camera equipment. A partial list of this camera equipment with the latest video production capabilities includes Arri, Canon, Red and Sony cameras, which are available for hire from a number of major film production houses in Bali. Indonesia is an ATA carnet country if you want to import camera equipment. Filma also has cutting rooms with world-class  Davinci grading capabilities.
Filming Crew, Skills and Availability
In Bali, many foreign-owned production companies are located here. They specialize in storytelling, documentaries, and fixing. There are wide-ranging options regarding filmmakers such as directors, DOP's, cinematographers, lighting, grip, wardrobe etc. Filma has created a seamlessly easy to use single page platform.
We have also set up a careful vetting process for potential filmmakers who sign up with us. Those outstanding individuals who get selected then become our video production partners. These video production experts have experience in 360 video production, augmented reality video production, drone & aerial videos motion, animation video production, graphic videos and all types of global video productions with which they have a wealth of experience.
Fill out the form to speak to a producer