Create Videos in
Sao Paulo
Brands, businesses and agencies work with us to create videos, films, commercials, AR/VR experiences and more.
Video Production Company Sao Paulo
Video Production Background Sao Paulo
Filma is a cloud based video production company that produces videos in multiple locations, with connections to top production houses in São Paulo. São Paulo, the largest city in Brazil, is a bustling and vibrant place with a population of 22 million in its metropolitan region making it the second most populated city of the Southern Hemisphere. The city is also a producer's dream, boasting a diverse range of architecture, environments, ethnicities, cutting-edge filming equipment, and some of the best talent in the business. In this article, we'll support why São Paulo is an incredible video production location and how Filma covers all your production needs there. Moreover, we'll sharpen and vitalize your vision through the most powerful marketing medium – video, emboldening your brand for years to come.
Over the last three years, São Paulo has averaged 1,000 productions per year, and the number of foreign productions has tripled in the past three years. Also, it has become a favourite for Netflix Original productions, as seen in the Wachowskis' Sense8, Brazil's 3% and the "Striking Viper" episode from Black Mirror's season 5. All three airports in São Paulo, two of which are international, also serve as domestic hubs for the hundreds of regional Brazilian airports. This conveniently provides easy access to the rest of Brazil should a shoot involve multiple locations. The production industry is separated into film and video, which are completely different in terms of markets. Video production companies focus more on small to medium businesses that require video content for purposes such as either corporate training or advertising. These days, video production has taken over as the best means for a successful marketing strategy.
85% of internet users watch online video content monthly, and with that said, it's no surprise that 626 million was spent on digital video advertisements last year resulting in a 14 percent increase from the previous year. Keep reading as we detail the types of video productions that Filma produces in São Paulo and the numerous stunning locations this vibrant city has to offer.
Common Types of Video Production in Sao Paulo
95% of viewers better retain a message or an idea when seen in a video, as opposed to only 10% when reading text. Moreover, research shows that mobile video consumption increases by 100% every year. And beyond that, new advances in video formats, specifically live broadcasting, 360° panoramas, and virtual reality videos are contributing to video content that's more engaging. There were 140 million social media users in Brazil as of 2020. That number increased by 11 million between 2019 and 2020.
Filma is a one time/one stop solution worldwide video production company that films and corresponds using urgent and remote video productions. Our extensive experience includes working on many diverse types of video productions:
Corporate video productions
Event video productions
Films (feature length and shorts)
Documentaries
Music videos
TV commercials
Social media video productions
Youtube Video productions
Product review videos
Viral marketing advertisements

Employee / Client Interviews

Tutorial Videos
Filma carefully plans each step of production from pre-production to post-production. With us, you can create any type of video production around the world at any time with ease. The bulk of your video marketing strategies will come from commercial, viral marketing and corporate video productions. Filma's producers and fixers secure the most advanced camera equipment, idyllic locations and a deep pool of filmmakers.
Sao Paulo Video Production Locations
Sao Paulo's Skyline
São Paulo's juxtaposing architecture showcases the city's diversity. Made up of 96 districts, the city's crowded streets, packed avenues and delicious restaurants reveal a city difficult to classify, with multiple, and often paradoxical facets. In São Paulo, you'll find a blend of modernist architecture, mirrored high-rise buildings and horizontal housing. Within the city's metropolitan area, there are over 1200 buildings taller than 100 meters and 40 -55 thousand skyscrapers. At one point in time, the city boasted the tallest building in Latin America – the Martinelli Building. The Martinelli opened in 1929 at a height of 130 meters, whilst now, the Mirante do Vale is the largest building in the city standing at 170 meters in height. São Paulo is a city of low buildings, which rarely reach higher than 120 meters and are mostly residential in nature.
Avenida Paulista
Paulista Avenue was previously a residential street filled with large, baroque mansions belonging to coffee barons with many of these torn down in the 1950's. They've since been replaced with multi-story buildings making it a center of luxury and business. Sao Paulo's major banks have headquarters here and the avenue is home to a native park, many museums and cultural centers. It is also one of the main thoroughfares for city parades, road races, and other pride events.
Theatro Municipal
São Paulo's Municipal Theatre was first constructed in 1903 and is a truly postcard-perfect place. Since being built, the Municipal Theatre has gone through several restorations in order to make it more modern while still maintaining its glamour. The theatre hosts performances by local schools for both music and dance.
Beco do Batman
Beco do Batman is a name created in the 1980s when a group of art students found graffiti of the famous comic book hero Batman on one of the walls in a narrow alleyway in Vila Madalena. The students decided to expand on the idea and shortly the entire alleyway was covered with multicoloured street art. Additionally, The Beco do Batman was one of the first open air museums dedicated to graffiti that sprung up in Latin America's largest city.
Filming Equipment and Post-Production Availability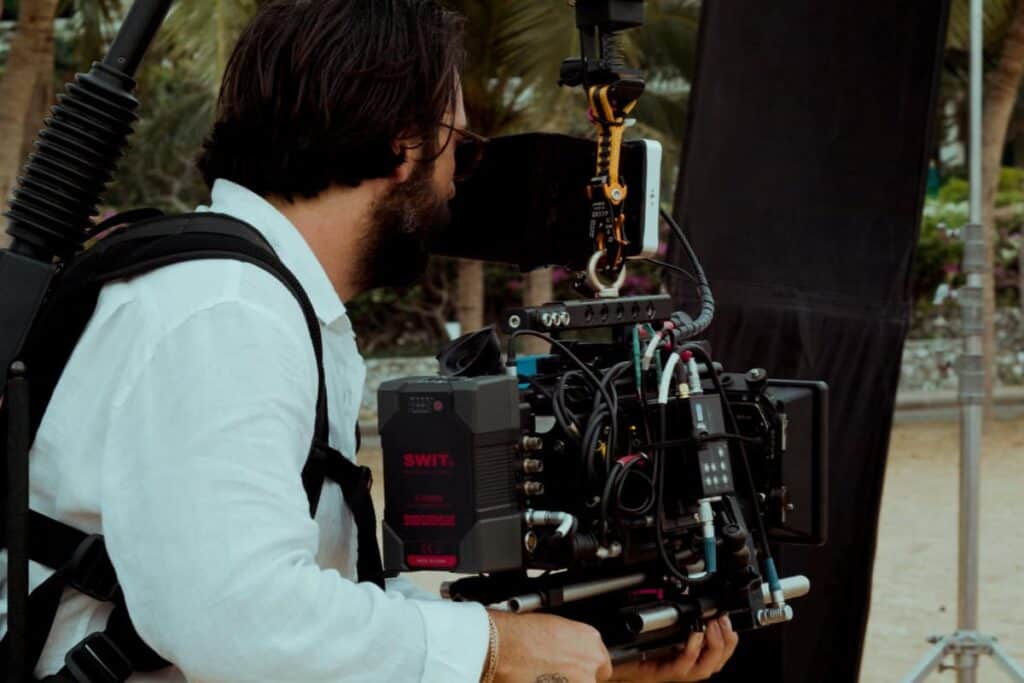 Film crews are gladly welcomed in Sao Paulo with Filma having access to the latest camera equipment innovation. The latest 4k/HD cameras include Arri, Alexa and Red Epic Dragon cameras, which are available at most Sao Paulo film production houses. Equipment here can be more expensive than average, but importing is simple as Brazil is an ATA carnet country. We also have in-house cutting rooms with Davinci grading.
Filming Crew, Skills and Availability
Brazil has a number of world-class directors based locally as well as many very talented stills photographers. There is also a very good depth of internationally experienced film crews, especially in Sao Paulo. The filmmakers here are experienced storytellers working on films, documentaries, television shows, and various types of video production.
Here, Filma works with expert directors, DOP's, cinematographers, sound technicians, lighting, grip, wardrobe, make up artists and talent. Filma's single page platform utilises a careful vetting process for potential filmmakers who sign up with us. The filmmakers that are chosen then go on to become our video production partners. We have a roster of experts in 360 video production, animation video production, drone & aerial videos motion, augmented reality video production, graphic videos and all types of global video production.
Fill out the form to speak to a producer