Tokyo

Video Production Company
Brands, businesses and agencies work with us to create videos, films, commercials, AR/VR experiences and more.
*** Due to the Olympics minimal attendance and Japan's border closure, Filma will be providing a full range of video and media services for the 2021 Olympics in Tokyo. Video, sound services, journalism, livestreaming and uplink, and other general services will be provided.***
Video Production Background Tokyo
Tokyo is a true global powerhouse of a city in every sense. Filma is a cloud based video production company that specializes in multi-location video productions with Tokyo as one of our most extraordinary filming locations around the world. Tokyo is the economic and political capital of Japan, while also holding the seat of the Emperor of Japan. Moreover, Tokyo has moved ahead of Paris, London, Seoul and Beijing to become the city with highest GDP according to GlobalData's revenue analysis of the top 25 global cities. In addition, Tokyo has built an impressive resume with acclaimed local and international films. In this article, we'll establish why Tokyo is the exemplary video production location for your company's video, as well as how Filma can vitalize your brand's vision and awareness through video production.
Filma will be providing a full range of production services for the 2021 Olympics in Tokyo. Japan will host its fourth Olympic Games in 2021. Originally, the games were meant to take place last year, but have been postponed due to Covid-19 outbreak, and the Opening Ceremony will be held 23 July 2021.
Whether you need ENG ( Electronic News Gathering  camera team), EFP (Electronic Field Production), Live Broadcasting Production Services, Live Production, Live Streaming, Direct Broadcast Satellite, OB (Outside Broadcasting) for events, or interviews, we've got you covered with ultra-reliable playback and recording.
What type of video are you looking to create?
These are the types of effective videos we produce in Tokyo:
Branding videos
–

These are marketing content videos that are sponsored or created by a brand that share the brand's values and does not directly advertise or promote the brand
Recruitment Videos
–

These communicate who you are, and what your company stands for so that potential employees can discover the look and feel of your company in a short space of time.
Event videos
–

Event Videos can range from corporate sponsored events to large trade shows and annual events or even music festivals.
Customer testimonial videos
–

These feature your customers talking about their experience with your company, the product or service
Case Studies
–

These are about real customer success stories and case studies present the problem and then how your company provided solutions.
TV Commercials
–

TVC 's advertise your company, service, or product and are produced for television.
Brand Awareness Videos
–

The commercial videos that can be made for Television (TVC's), YouTube and various social media platforms about your business's vision, mission, or products and services.
Viral Marketing Ad Campaigns
–

Viral marketing iare promotional videos that rely on an audience to generate the message of a product or service and is considered "viral" when it's being shared by the large amount of the public.
Product Review Videos
–

A product video effectively highlights the benefits of a product or service.
Tabletop Videos
–

Tabletop videos that we use for commercials especially with food products on a a tabletop and make make use of simple sets.
Tokyo has the largest production houses in Japan with an abundance of massive films having shot in the urban powerhouse. Tokyo has many wonderful filming locations. A host of locations have been used for filming in blockbusters such as The Wolverine, Inception and even Avengers: Endgame as well as for acclaimed films such as Lost In Translation and Kill Bill: Vol 1. Tokyo has a population of over 37 million and is an Alpha+ city as determined by the Globalization and World Cities Research Network.
Furthermore, Japan's business and financial center is ranked third on the Global Financial Centres Index, behind only London and New York City. With 116.5 million internet users in Japan, Tokyo is at the forefront of technology and development in the world. This works out to 92% of the population, most of whom are online using mobile phones. The number of mobile connections in Japan saw an increase of 6.1 million from last year to now standing at close to 192 million.
This is an equivalent of 151% of the total population. Video content is the proven best way to engage with your consumer base and also create a wider audience reach. Keep reading as we explore the wide array of video productions that Filma creates and produces in Tokyo.
Common Types of Video Production in Tokyo
Live broadcasting, 360° panoramas, or virtual reality videos are examples of new inventive techniques that will produce more attractive and immersive video ad content. This along with high mobile processing power and 5G internet connection speeds have contributed to making these new ad formats possible. Social media platforms are crucial in creating a wider brand audience. The number of social media users in Japan reached 82 million in January 2020. This was boosted by 3.8% from last year consequently allowing social media penetration to stand at 65%. Digital video marketing has become such an integral part of advertising and engaging with consumers. Therefore, online video productions and viral marketing advertisements are a must. Filma is the one time/one stop solution global video production company that facilitates urgent video productions and remote video productions. We have experience shooting a vast scope of video productions in Tokyo, some of which include:
Corporate video productions
Event video productions
Films (feature length and shorts)
Documentaries
Music videos
TV commercials
Social media video productions
Youtube Video productions
Product review videos
Viral marketing advertisements
Video interviews
Tutorial Videos
We provide complete support with every phase of international video production from planning, through shooting to editing. The base of your video marketing strategies will include viral marketing, commercial and corporate video productions. Wherever you are, whenever you need it – Filma has the expertise to create outstanding video content to best publicize your brand.
Tokyo Video Production Locations
Tokyo Skyline
Tokyo's skyline is one of the most impressive and expansive in the world. This modern hub epitomizes 'big city lights and large crowds'. There are a plethora of skyscrapers and bustling districts that have featured in critically acclaimed movies. A host of respected and admired Japanese auteurs have created cinematic masterpieces to infatuate audiences with Tokyo. Movies such as Tokyo Godfathers, Tokyo Sonata, Cherry Blossoms, Tokyo! and Soffia Coppola's Lost in Translation.
The Hyatt Regency Hotel was featured prominently in Lost In Translation. The tallest structure in Japan is the Tokyo Skytree standing at 634 meters tall, which is located on the east side of Tokyo. Other noteworthy buildings include Tokyo Tower, Midtown Tower and Toranomon Hills.
Tokyo Station and Marunouchi District
The Tokyo Station is the entrance and gateway to Tokyo for many, however it is also a flourishing urban center. The Marunouchi District is located between the north of the station and the Imperial Palace. Here you'll find wonderful art galleries, museums as well as a host of dining and shopping options. Many of the top hotels are also situated in this happening district. Furthermore, some of Japan's most prestigious companies fill the area giving off vibes reminiscent of Manhattan.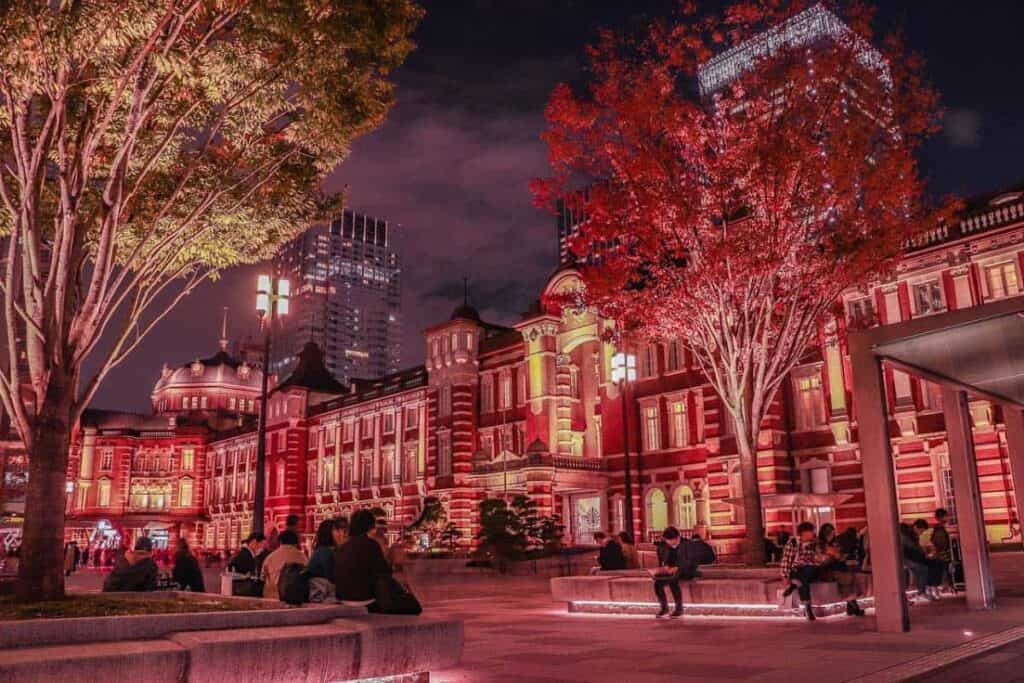 Tokyo Imperial Palace Park
The Tokyo Imperial Palace Park is a huge stretch of green that lies slap bang in the middle of the city. While you cannot enter the palace except by booking a tour on specific days of the year, beautiful parks, museums and shrines surround the palace. You can capture the palace's beauty from a distance usually by the gorgeous moats. The park is beautiful through all seasons, although the Cherry Blossom season spectacularly highlights its natural beauty.
Shibuya Shopping District
Shibuya is the image that comes to the minds of most when they picture Tokyo. The Shibuya Crossing is a famous intersection in an area that is one of, if not the central hub of Tokyo. Many scenes from the movie 'Lost in Translation' were filmed in this frenzied shopping district. Department stores, restaurants and bars litter Shibuya with scurrying crowds making this area the perfect place to capture Tokyo's bustling city life.
Filming Equipment and Post-Production Availability
Filma provides the latest top of the range camera equipment. All of which come equipped with the highest grade video production capabilities. A multitude of major production houses in Tokyo have an enormous range of equipment available. This will include equipment such as Canon, Red, Arri and Sony cameras. At Filma, we also have access to cutting rooms with world-class Davinci grading capabilities.
Filming Crew, Skills and Availability
Production companies based in Tokyo have years of experience with storytelling, documentaries, and fixing.
Our fixers will facilitate all necessary phases of pre-production. There are numerous options with regards to filmmakers such as directors, DOP's, cinematographers, lighting, grip, wardrobe, makeup, editors, vfx specialists, animators etc. Japanese filmmakers and crew are highly experienced in their craft. Filma has created a single page platform that is easy to use. We have a careful vetting process for potential filmmakers who sign up with us. The expert filmmakers who make the grade will then become our video production partners. These talented filmmakers have experience in 360 video production, animation video production, motion graphic videos, augmented reality video production, drone & aerial videos, and every type of global video productions with which they have a deep well of experience.
We are always available to talk and we understand that each video project is unique. If you have more questions about your video, please feel free to contact us by filling the form below. One of our video producers will be in touch with you very soon. 
Fill out the form to speak to a producer